Subjected to the usual Moons 'o' delaying and rescheduling, Mini Tama-chan finally landed upon our doorstep, much to the delight of Tama-chan as well as Goshujin-sama… :3c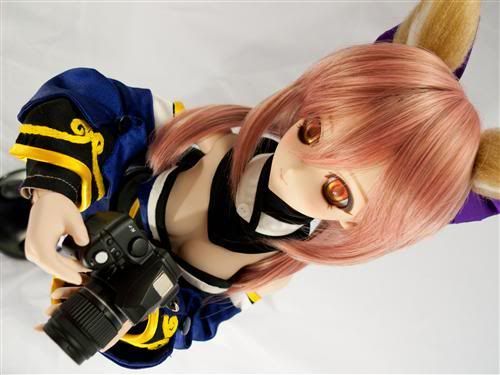 Now please excuse Tama-chan while Tama-chan fetches Tama-chan's DSLR for this round's Tama-chan's Self Review!

5th February, 2012 | Categories: Articulated Figures | Tags: 1/3, 1/8, Caster, Caster Extra, CastFox, Custom, Denpa Onna to Seishun Otoko, Fang-tan, Fate, Fate/Extra, Fate/Stay Night, Figure, Fixed Pose, JRPG, Kemonomimi, Kon! Kon!, Nendo, Nendoroid, Playstation Portable, PSP, Review, Role Playing Game, RPG, Scaled Figure, Shippo, Volks | 7 Comments »
---
Shown in prototype form earlier this year, the scaled figure of our lovely foxy miko is finally up for grabs~!
Eventho I've promised to myself not to ever collect fixed-posed scaled figure since the start of FigNendo era, CastFox-chan managed to melt my iron will, breaking a certain resolution while tempting me to click on the red button labeled PO… ^^;
12th July, 2011 | Categories: Articulated Figures | Tags: 1/8, Caster, Caster Extra, CastFox, Fang-tan, Fate, Fate/Extra, Fate/Stay Night, Figure, Fixed Pose, JRPG, Kemonomimi, Kon! Kon!, Playstation Portable, PSP, Role Playing Game, RPG, Scaled Figure, Shippo | 14 Comments »
---